New for 2016! Our own raw honey!
Please phone the farm at 207-457-1435 to check availability of any products shown on this page.
You'll find new items in the store depending on what's fresh at the farm!
Jams
Fresh Fruit
Raw Honey
Gift Certificates
Baer's Beans
Baked Goods
 (made to order)
Sunflowers
Country Crafts
Vegetables
Fresh Flowers
T-Shirts
Hats
Raw Honey in two sizes: $9 (8 oz.) and $14 (16 oz.)
Each flavor of our jam received a blue ribbon at the Rochester Fair. $6 each
We have seven varieties of homemade jam:
Blueberry
Blueberry/Raspberry
Raspberry
Peach
Peach/Raspberry
Strawberry
NEW! Blueberry/Rhubarb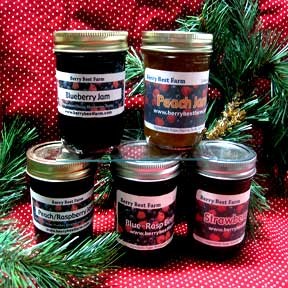 Any or all make wonderful gifts. Please call ahead to place an order or visit the store in-season.
Our phone number is 207-457-1435. Shipping is not available.